1968-76 BRONCO BODY
Available with STOCK or FLARED Quarter Panels
1968-76 BRONCO REPRODUCTION BODY PARTS & ACCESSORIES

PRECISION ASSEMBLY FIXTURES MAKE OUR BRONCO BODIES BETTER
Utilizing precision assembly fixtures designed and built by a former NASCAR team body engineer, we assemble our Bronco bodies on two main assembly platforms. Every component is registered by fixtures as they are installed to ensure every body maintains proper door gaps and panel alignment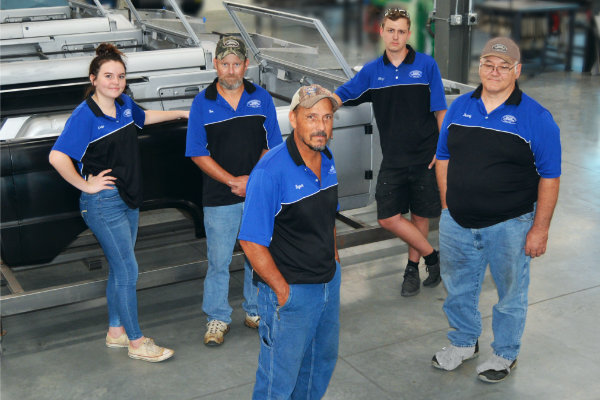 OUR BODY BUILDERS
We have a highly skilled team of metal fabricators with 87 years of combined metal fabricating experience that confidently work their craft to produce our premium quality reproduction Bronco bodies.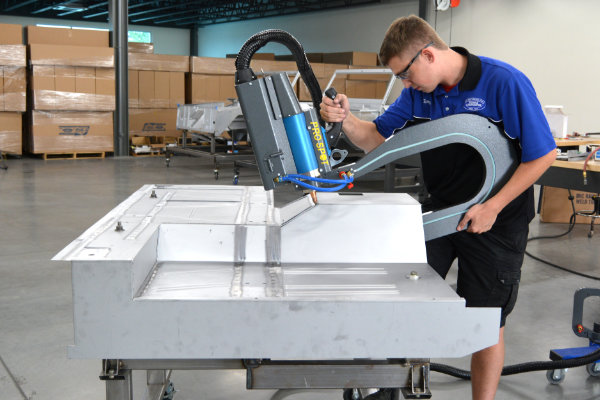 COMPONENT PREPARATION
The key component of our Bronco body is the front floor structure. The floor is built on a precision assembly fixture to ensure exact tolerances are met and maintained during assembly. These floors are the key to a successful body build.
PRECISE PANEL FITMENT
As our Bronco bodies are assembled, attention is taken to strive for the best panel fitment and alignment possible.
BODY WELDING
Welding is primarily done using Pro Spot i5 Smart spot welders. These smart spot welders measure the thickness and resistance of the metal to be welded and automatically delivers the correct weld current, weld time and squeeze pressure to maintain a consistent and maximum strength spot weld every time.
KEY FEATURES OF OUR BRONCO BODIES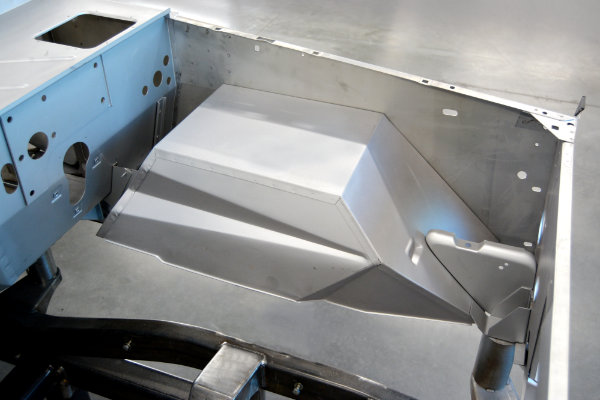 POWER STEERING WHEEL TUB
We've incorporated the 1973-75 style left hand front wheel tub into our Bronco bodies. This feature creates more space for the installation of a power steering system if desired.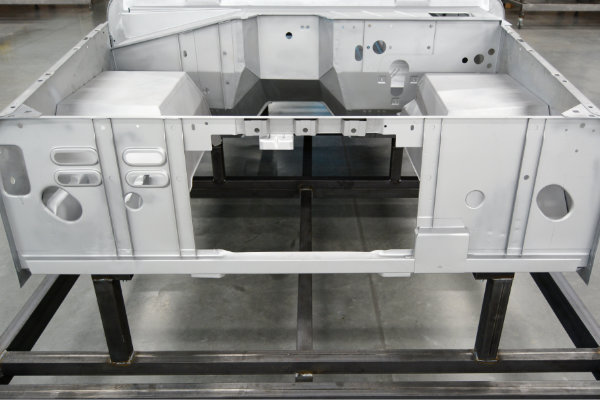 V8 RADIATOR SUPPORT
All Dennis Carpenter Bronco bodies feature a V8 radiator support.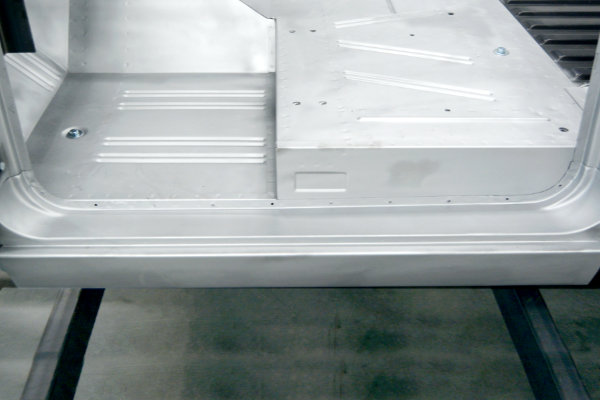 ORIGINAL FORD TOOLING ROCKER PANELS
Our outer rocker panels are made of high quality steel at our shop in North Carolina. We use the original Ford tooling in our stamping presses to make these 1966-77 Bronco rocker panels which are then welded into our reproduction bodies.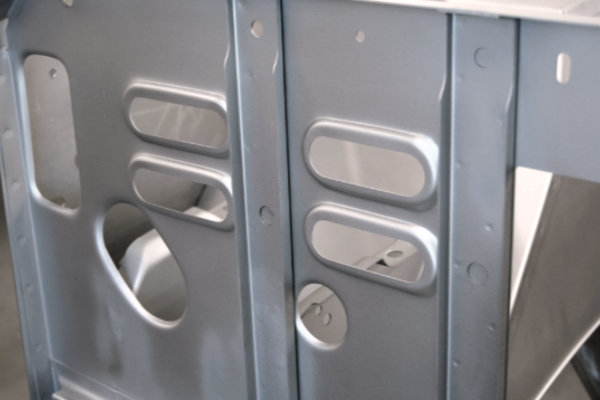 FORMS AND IMPRESSIONS
All the reproduction body components have been accurately recreated by reverse engineering and display all the forms and impressions that were present in the original Ford Broncos.

FACTORY BODY MOUNT LOCATIONS
Dennis Carpenter Bronco bodies have factory body mounting locations and bolt directly to original 1966-77 Ford Bronco frames with
factory mounting locations. (KINCER Early Bronco Frame shown above)
For official licensed frames to fit perfectly with your new Dennis Carpenter Bronco body, visit Kincerchassis.com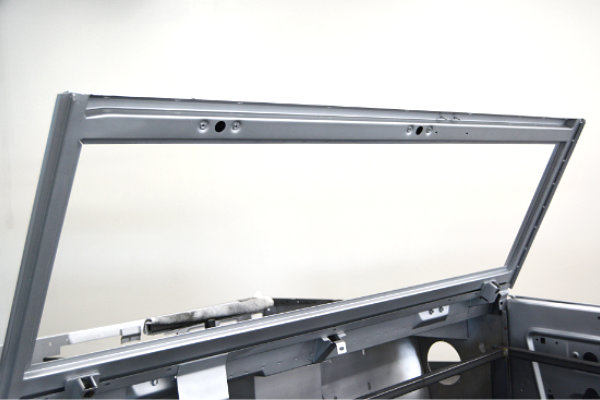 FOR ELECTRIC WINDSHIELD WIPERS
All Dennis Carpenter Bronco bodies come with 1968-77 style fold-down windshield frames that accept original style electric windshield wiper motors. The cage nuts to secure the wiper motors have been welded into position.
UNIFORM DOOR GAPS & PANEL FITMENT
Uniform door gaps and flush panel fitment are results from the way our experienced team builds Dennis Carpenter Bronco bodies. All construction of individual body components and body assembly process are performed on a system of precision welding fixtures that were designed and fabricated by a former NASCAR body engineer.

Dennis Carpenter offers Bronco bodies with two different lower quarter options to suite your needs.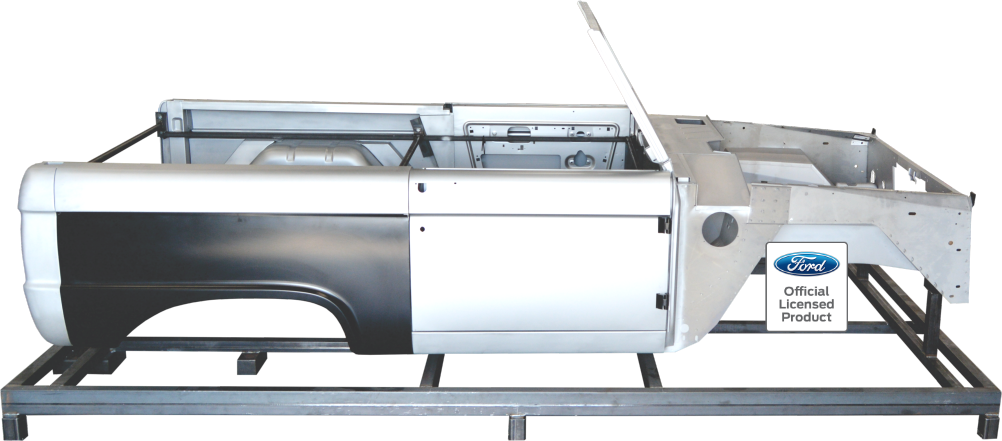 BRONCO BODY with STOCK LOWER QUARTERS
Our stock Bronco bodies feature the original style lower quarter panels for that classic uncut look. All of our bodies come with hinge and mounted left and right doors and windshield frame.
$15,595.00
Plus Shipping and Crating. Body Shown as Shipped. Cannot be ordered Online. Must order by calling 704-786-8139. Ask for Tom B. or Chris C.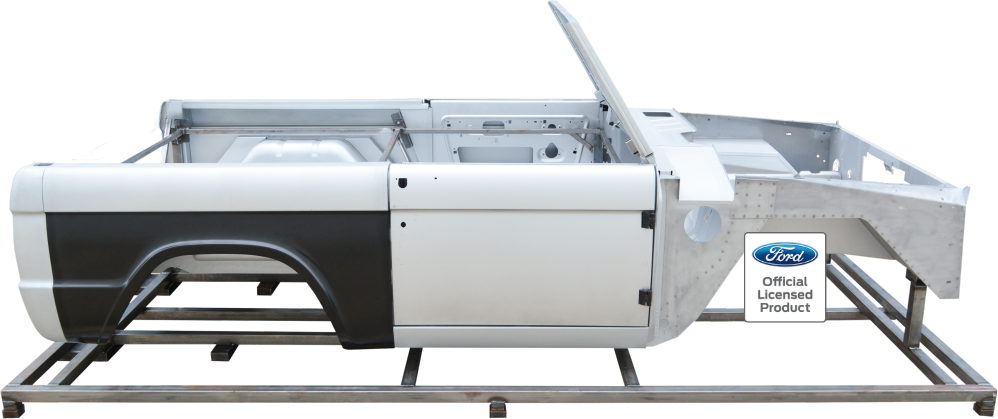 BRONCO BODY with FLARED LOWER QUARTERS
Our flared Bronco bodies feature lower quarter panel that were made to match the size and shape of the front fender wheel openings. This allows you to run larger wheels without cutting and adding fender flares. All of our bodies come with hinged and mounted left and right doors and windshield frame
$15,895.00
Plus Shipping and Crating. Body Shown as Shipped. Cannot be ordered Online. Must order by calling 704-786-8139. Ask for Tom B. or Chris C.
REQUIRED SHIPPING PLATFORM
We build a heavy-duty steel shipping platform and internal structure to ensure your Bronco body doesn't get damaged during shipment or when removed from the shipping platform. This platform is essential to transporting and supporting the body before it is mounted to a frame.

The mandatory shipping
platform fee is $895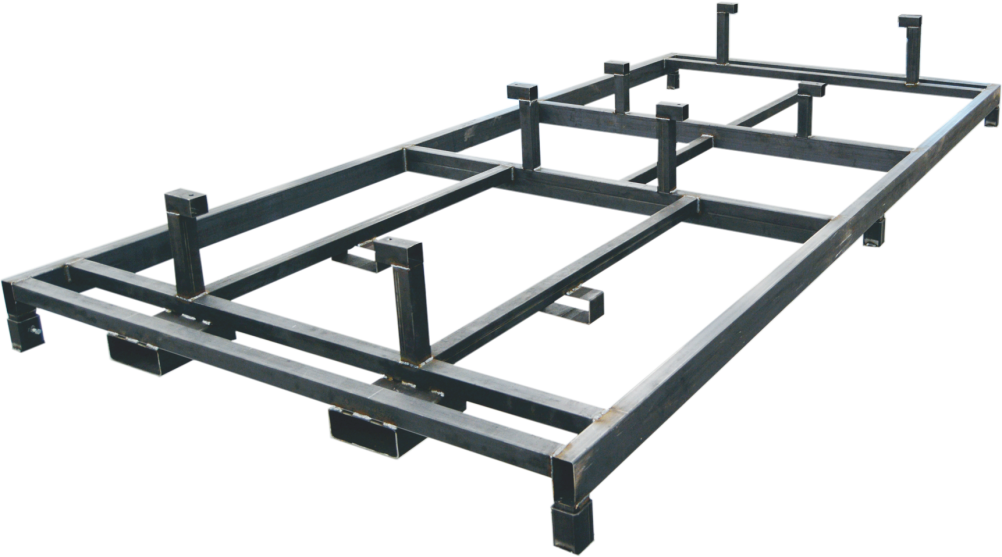 BRONCO BODY LIFT
See how well the All New Bronco Body aligns with an original Ford Bronco chassis.
Simply click & drag graphic.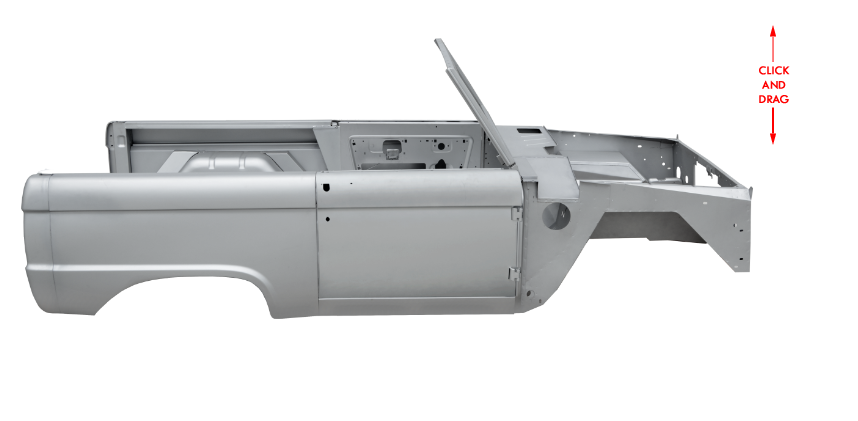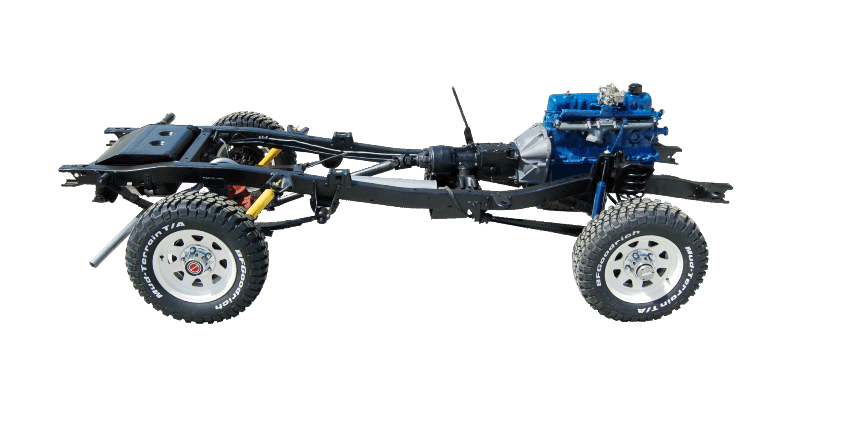 NOT SOLD ONLINE
CALL: 704-786-8139
ASK FOR Tom B. or Chris C.

The Dennis Carpenter reproduction Bronco body is show with additional (at extra cost) dash tailgate, front fenders,grille, hood and bumpers all of which are available from Dennis Carpenter. The reproduction body is mounted to an original Ford Bronco chassis with a 170 cu. in. 6 cylinder engine.