We made over 12,000 different classic Ford Parts
Many of them are made in our facility in Concord, NC.
Dennis Carpenter Ford Restorations have been manufacturing and selling classic Ford parts such as Rubber Weatherstripping, Die-Cast Chrome Emblems & Handles and Metal Stamped parts as well as many others for your restoration needs for over 50 years.
Our products cover:

• Ford F-Series TRUCKS 1932-2006
• Ford BRONCO 1966-96
• Econoline 1961-67
• Ford and Mercury CARS 1932-79 including 1960-72 Galaxie / LTD, 1960-70 Falcon, 1960-72 Comet, 1962-72 Fairlane, and 1955-79 Thunderbird
• Ford TRACTOR Parts 1939-64 for 8N, 9N, 2N, Jubilee, NAA
• CUSHMAN Motor Scooter 1936-65 including Step Thru's, Eagles and Silver Eagles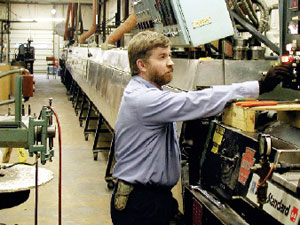 Rubber Extrusion Operation
Door and Trunk Weatherstripping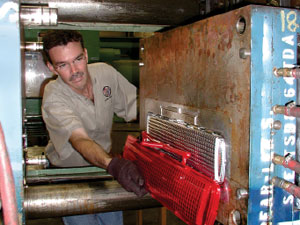 Plastic Injection Molding
for light lenses, emblems and fan shrouds
Metal Stamping Operations
for Bumpers, Hubcaps and Scuff Plates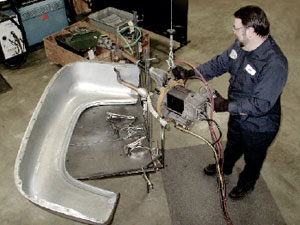 Parts made from Original Ford Tooling
Fenders, Grilles, Running Boards
EXACTLY LIKE THE ORIGINALS
You Get What You Pay For. That's A Promise.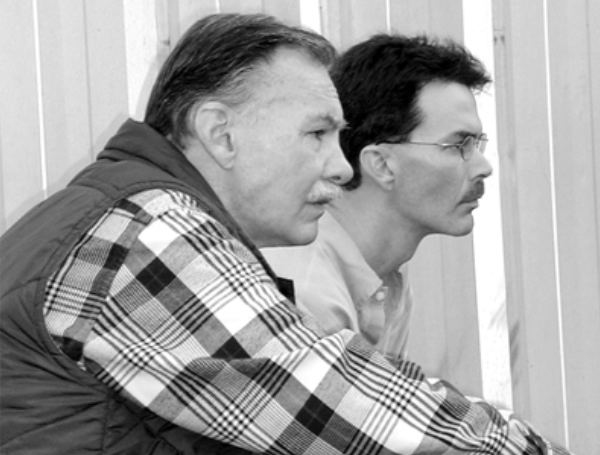 Father (Dennis) and son (Daniel)
As a family-owned and operated company, Dennis Carpenter has been making Ford restoration parts for over 50 years. As a kid, Daniel Carpenter was at his dad's side in 1970 when Dennis hand poured the first plastic dash knobs for his 1940 Ford convertible in an unfinished room in their home. Demand for these was strong because no one had ever made factory-correct replacement knobs, and good originals were impossible to find. The business was birthed, and soon thereafter, Dennis purchased his first injection molding machine for making larger runs of higher quality knobs.
As the business grew, Dennis Carpenter Ford Restorations began manufacturing and selling rubber seals, rubber bumpers, die-cast chrome parts, and metal stamped parts. In 1998 Ford granted us the honor to use the original Ford factory tooling for many parts that we now make. Today we have over 160 employees at our facility making and selling quality Ford parts. We now have 12 plastic injection molding machines, a rubber extruding operation, 54 rubber molding machines, 48 metal stamping presses, 2 zinc die casting machines, 3 roller mills, and other specialty equipment for making high-quality parts in America.
In today's Ford restoration parts market, where most parts manufactured by others are sourced overseas (due to economics), we are proud to say that 85% of Dennis Carpenter rubber products, 95% of stamped metal parts, 99% of plastic injected parts and 100% of Ford tooling parts are made in the U.S.A. Sometimes products made in the USA cost a little more than those made overseas, but you can rest in the fact that our parts are made from the highest quality materials and offer long-term durability.
In 2021 our call center and order fulfillment `department moved into our brand new 90,000 square foot facility, this move allowed us to plan and streamline our processes to better serve you, our customers.
And continuing the family-owned and operated tradition, Daniel Carpenters daughter is now following in her dad's footsteps and in the future will be the 3rd generation to guide the company.
Thank you for choosing Dennis Carpenter to be your restoration parts supplier, we appreciate your business!
OUR CORE VALUES
Customer Satisfaction | Be Responsible | Work Efficiently | Improve and Innovate | Respect, Honesty, and Integrity.
We believe the best course of action, in even the most trying of times, is to not waver from our core values. This starts with great employees, regardless of race, nationality, belief, gender, orientation, disability, or political affiliation. As a result, we employ amazing people from all walks of life so that we can offer amazing products and service to our amazing customers.
Our stance has, and will continue to be, one of treating everyone equally and fairly. We do this not because of any social trend, but because it is what we believe should be done to have a fair and just world to live in.
OUR MISSION STATEMENT
Long term stability, growth, and success are dependent upon investing in our employees and meeting our customer needs.