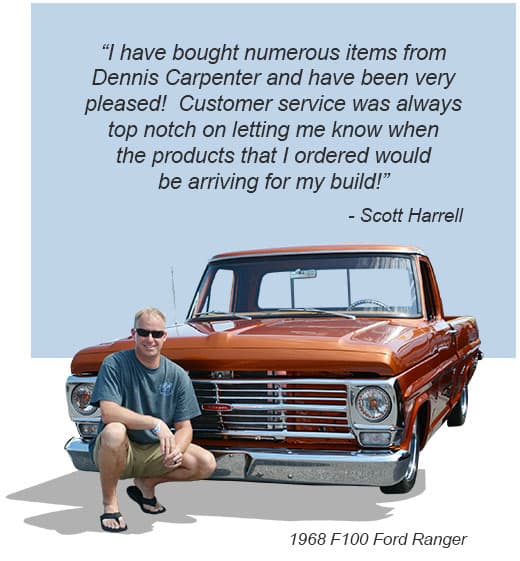 We make over 12,000 different classic Ford Parts!
Repair and maintenance parts for Ford Trucks, Broncos, Cars and Tractors.
As a family owned and operated company, Dennis Carpenter has been making Ford restoration parts for over 50 years. As a kid, Daniel Carpenter, Dennis's son, was at his dad's side when Dennis hand poured the first plastic dash knobs for a 1940 Ford convertible in an unfinished room in their home. The business was birthed, and soon thereafter, Dennis purchased his first injection molding machine for making large runs of higher quality knobs.
As the business grew, Dennis Carpenter Ford Restorations began manufacturing and selling rubber seals, rubber bumpers, die cast chrome parts and metal stamped parts. In 1998 Ford granted them the honor to use the original Ford factory tooling for many parts that they now manufacture. Today they have over 160 employees at their facility making and selling quality Ford parts. They now have 12 plastic injection molding machines, a rubber extruding operation, 54 rubber molding machines, 48 metal stamping presses, 2 zinc die casting machines, 3 roller mills and many other speciality machines for making quality parts in America.
We appreciate your business.